What does it mean to be in KDP?
What is Kappa Delta Pi?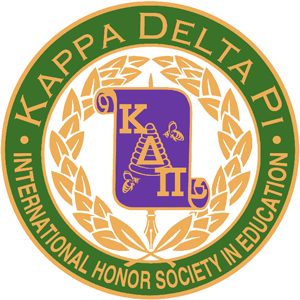 Kappa Delta Pi (KDP), is an international honor society in education. Invitation to KDP is based on high academic achievement at the college level, a commitment to being an educator in the future, and a healthy attitude which ensures success in the education of students.
Membership in Epsilon Kappa Chapter of Kappa Delta Pi signifies more than a well-deserved line on a resume. Members have the responsibility as a recognized honor student to maintain the high ideals of the society and to extend its influence. Members attend chapter meetings, perform service projects financed through their own fund-raising, contribute to the organization, to the profession and to society. Members have an obligation to model behaviors and attitudes appropriate to the honor bestowed upon them.
Society Ideals: Fidelity to Humanity, Science, Service, and Toil
Society Motto: Knowledge-Duty-Power
Society Colors: Jade Green and Violet
"So to teach that our words inspire a will to learn, so to serve that each day may enhance the growth of exploring minds, so to live that we may guide young and old to know the truth and love the right.
To the fulfillment of these objectives, we pledge our efforts and our faith."

Membership Eligibility
Undergraduate students at Michigan State University who have attained an overall grade point average of 3.5 and who have been admitted to the College of Education Teacher Education Program are invited to to become a member of the Epsilon Chapter of Kappa Delta Pi during an open invitation period each Spring. Prospective members are invited to join via e-mail and must complete a membership application form by a specified date. Applications are only accepted once per year (usually mid-March to mid-April).
Teacher-Interns who have completed at least twelve semester hours with a grade point average of 3.75 or above and graduate students with at least a 3.85 graduate point average after twelve semester hours are also invited to join.
In order to join, one must complete the following two forms:
form 1 of 2 for membership
form 2 of 2 for membership
Once accepted into Kappa Delta Pi, students may sign up to be on the KDP LISTSERV. By signing up on the LISTSERV students in the organization will receive e-mails on a regular basis regarding guest speakers, events, and meetings that will take place within the organization. To get directions on how to sign up for the LISTSERV, click here.
Persons elected to membership remain members for life; however, active membership is maintained through the payment of annual dues. Active members are encouraged to attend the meetings of the chapter into which she or he was initiated and the meetings of any other chapter of Kappa Delta Pi.
History of Kappa Delta Pi
Kappa Delta Pi, an International Honor Society in Education, was founded March 8, 1911, at the University of Illinois. Organized to recognize excellence in education, Kappa Delta Pi elects those to membership who exhibit the ideals of scholarship, high personal standards, and promise in teaching and allied professions. It encourages improvement, distinction in achievement, and contributions to education.
Kappa Delta Pi has 60,000 active members that include outstanding leaders in the Laureate Chapter, National State Teachers of the Year, The American Teacher Awards winners, National Teacher Hall of Fame members, and Chicago Golden Apple Teachers.
Kappa Delta Pi supports member development through a multitude of member services. Because teaching is a lifelong process and a worthy profession and career, members are urged to renew membership annually throughout their lifetime. The Society's goal is to provide support through member services at each stage of members' careers.
Each member's name is recorded permanently at Society Headquarters located in West Lafayette, Indiana with the name of the initiating chapter. However, any member may become affiliated with any other chapter of the Society and, upon payment of local dues, enjoy all the rights and privileges of membership in that chapter.
Check out KDP International to discover more about Kappa Delta Pi, its publications, scholarships, teacher resources, national job information, professional networking, educational tours, merchandise, conference happenings and links to other worthy educational sites.
Frequently Asked Questions:
What does it mean to be an "active member"?
Active members are those who have paid the national KDP fees.
What does it mean to be a "participating member"?
Along with paying national KDP dues, participating members must attend 8 events by the end of the academic school year in May, so be sure to sign in at any event you attend! You may accrue points for attending any KDP events, excluding one which must be earned by attending a general meeting and one which must be earned through a service event.
How do I know how many points I have?
Points can be found by clicking the following link KDP Point Totals
Where can I get my cords for graduation?
KDP Honor Cords are available for purchase in 134 Erickson from Kristy Chene
(chenek@msu.edu). Cords are $13, and any KDP member, active or not, are able to
purchase them.
For any KDP related questions, please contact an e-board member at kdp@msu.edu.